After long waiting, LeviathanHaz3 is @iHaz3's biggest theme yet!
LeviathanHaz3 is an amazing HD theme that has been designed with an eye on the new generation iPhones with a Retina Display. It has a unique design which really brings out the beauty of you newly jailbroken iPhone! With this Eye catcher, you can really steal the show when your iPhone is wearing the new LeviathanHaz3 of the Haz3 Theme collection. With over 600 custom icons all your favourite apps and tweaks are themed!
The Silver and Turquoise design of LeviathanHaz3 gives a truly unique experience to your iPhone.
Fully themed apps and UI elements are used with all Haz3 themes. iHaz3 provides support and updates to assure you can enjoy your theme for a very long time. LeviathanHaz3 also themes your favourite tweaks like SBsetting, TaptoUnlock, etc.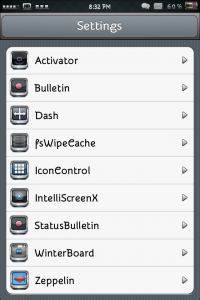 Screenshot of Themed Settings Application
LeviathanHaz3 is an over complete theme full of custom images, photo and weather widgets! So your iDevice will be fully themed in one style, with High quality images. The theme is also available for all iPads and soon for Mac and iPad mini. Like all Haze-Development themes, you get great support! So if you have any questions feel free to ask @iBitgirl and @iHaz3 on Twitter! Oh, Was an image forgotten? Missing an Icon? Send @iHaz3 a Tweet and it will be added in the next update.
All of @iHaz3's themes are made to support his wife (@iBitGirl) who is still struggles with the recovery of a nerve tumor and a hernia she has in her back. He is trying to raise money to make her recovery easier because she still has much trouble with walking and doing the daily things of life. So purchase a theme by Haze-Development to receive an amazing theme, and next to that, you are supporting a great cause!