Apple held a press conference on September 10th, announcing a new lineup of phones before the holiday season as well as a brand new version of iOS.  iOS 7 became available on September 18th, the iPhone 5c opened for pre-orders on the day of the announcement, and both new iPhones became available in stores on September 20th.
For the first time, Apple has released a less expensive device that appeals to customers that want colored phones. The iPhone 5c has the exact same specs as it's predecessor, the iPhone 5, but features a colored plastic body available in five colors. Internally, the A6 processor, 8 MP camera, 4 inch Retina display, and FaceTime HD camera, really make the iPhone 5c a great value for only $99 for 16GB and $199 for 32GB with a 2 year contract.
The flagship device, the iPhone 5s, like the 5c comes in new colors as well, however, limited to only three. The available colors are Silver, Gold, and Space Gray. Not only were the color options updated, but new hardware is included. With a flash that changes color temperature, a M7 motion processing chip, an A7 64 bit processor, a slow motion capable camera sensor, and a fingerprint sensor, this new device really packs a punch. This latest and greatest iPhone will be priced at the usual – $199 for 16GB, $299 for 32GB, and $399 for 64GB with a 2 year contract.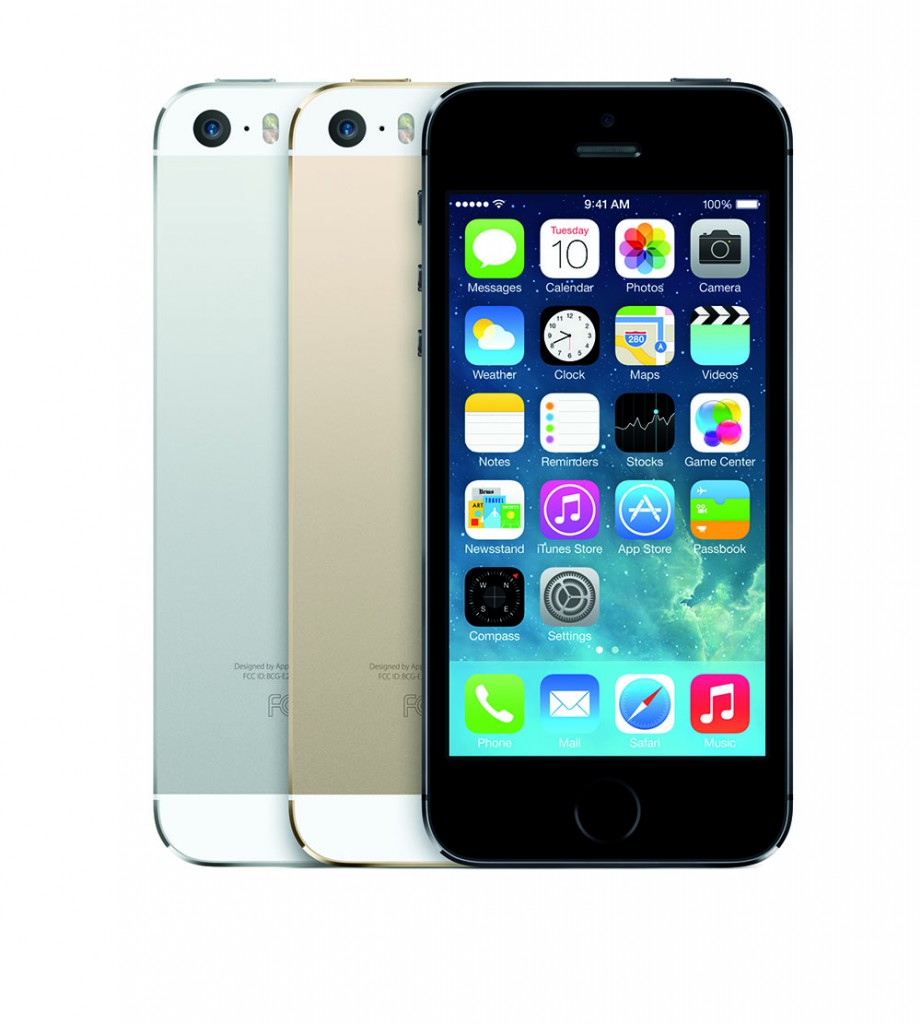 iOS 7 was announced alongside the new iPhones, with a plethora of new features. Most long time iOS users have been welcoming change for a long time, however, new adoptees of the system might have some difficulty getting used to the changes. The operating system features a new redesigned "flat" interface that is becoming a trend in the tech world. The operating system gives users new features such as Control Center which allows users to easily access toggles for their device. Siri has received an overhaul with new sounding voices and interface. Apps will now update in the background and users can now block Messages from spammers.  New UI improvements are included across the board, with parallax and dynamic wallpapers, all new icons, a lighter appearance, new animations, and a new multitasking app switcher.  To sync with iOS 7 iTunes 11.1 became available for download
Additionally, to complement the brand new iPhones, Apple decided to announce docks and cases for each.  Finally we are reassured that the dock has not been obliterated.  The iPhone 5s and 5 dock as well as the 5c dock feature lightning connectors as well as a 3.5mm audio out connection, for the convenience of adding a dock to any stereo system.  The last official iPhone case Apple has manufactured was the Bumper for the iPhone 4 and 4s, however, Apple has decided to release cases for both new devices as well.  Finally, for those seeking an even more affordable iPhone than the 5c, the 8GB iPhone 4s is free with a 2 year contract.